Featured E-Books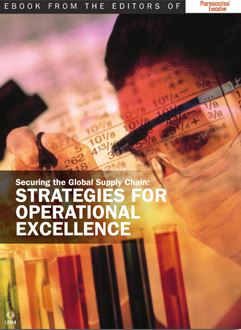 Securing the Global Supply Chain: Strategies for Operational Excellence
Strategic management of the supply chain is vital to winning with customers. Cost and quality are important, but they are not the only things customers care about: New services, flexibility in relationships, supply reliability, and creatively overcoming obstacles in delivery of products are also core values. Pharmaceutical product portfolios and customers are becoming more complex. To stay ahead, customer-focused supply-chain capabilities is becoming an increasingly crucial part of a company's competitive advantage. Visit the resource center.
The Changing Contours of Drug Commercialization
"The Changing Contours of Drug Commercialization," a new e-book from the editors of Pharmaceutical Executive, sheds light on solutions and strategies uniquely within a manufacturer's own sphere of control that can help navigate the often unforgiving transition from registration to the real-world battle for clinical acceptance and market share. Visit the resource center.
Patient-Centric Approach to Product Commercialization
The industry's much talked-about patient-centered approach requires more than lip-service and organizational redesigns. In order for the patient to emerge center stage in a commercial approach, it's necessary for manufacturers to shift prioritization's to help the greatest number of patients gain access and remain on treatments.
The Path To Market Access: Winning Strategies To Build Value With Payers
Success in today's rapidly changing market access world depends on understanding your product's value through the eyes of payers and shaping crucial value communication around the needs of market access stakeholders as much as it does on developing solid evidence of the value of your product.